Kim Tae-yeon (born March 9, 1989), better known by her stage name as Taeyeon, is a South Korean singer. She had been a trainee at S.M. Entertainment's Starlight Academy during her middle school years before debuting as a member of the agency's girl group Girls' Generation in 2007. Since then, she has risen to prominence due to the group's success in the Asian music scene and further participated in the agency's projects Girls' Generation-TTS and SM the Ballad. Aside from group activities, she has also recorded songs for various television dramas and movies.
Early Life – Career:
1. 1989 – 2008 = Early Life and Career Beginnings:
Taeyeon was born in Jeonju, South Korea. Her family consists of her parents, an older brother and a younger sister. Having believed that she was "only talented" at singing, Taeyeon harbored the dream of becoming a singer at a young age. During her second year in middle school, Taeyeon accompanied her father to SM Academy (a former music institution and auxiliary affiliation of S.M. Entertainment), to pursue vocal lessons. Although her father at the time did not encourage Taeyeon to become an entertainer, he was persuaded by the school's president to give his daughter a chance after she recognized Taeyeon's "clean" voice. During the next year, Taeyeon accompanied her father from their hometown to Seoul on every Sunday to receive her vocal lessons. She named BoA, Whitney Houston and Utada Hikaru as her pre-debut inspirations.
Taeyeon was trained with her former vocal instructor, known professionally as The One, for three years. In an interview, he described Taeyeon as a "smart" student, someone "unlike others who came to him with dreams of becoming a celebrity", she "wanted to be a singer and reach the top with her own talents." In 2004, he "wanted to acknowledge Taeyeon's potential" by giving her the chance to be in his song "You Bring Me Joy". That same year, she won the 1st place at the SM Youth Best Competition and officially received a contract from SM Entertainment. The training process was so tough that it nearly made her quit at one point. However, he continued on with her training and debuted as a member of girl group Girls' Generation in August 2007. The group gained significant popularity after the release of their hit single "Gee" in 2009. Taeyeon graduated from Jeonju Art High School and was awarded with the school's Lifetime Achievement Award in 2008.
2. 2009 – 2014 = Original Soundtracks, Debut with Girl's Generation TTS and SM The Ballad
Apart from Girls' Generation's activities, Taeyeon has appeared in several solo appearances. She first contributed her vocal to "7989" (featuring Kangta), a track taken from both Girls' Generation's eponymous debut album (2007) and Kangta's fourth studio album, 'Eternity' (2008). Taeyeon started gaining popularity thereafter through her various works of television soundtracks, having recorded "If" for the KBS2's drama 'Hong Gil Dong' (2008) and "Can You Hear Me" for MBC's drama 'Beethoven Virus' (2009). During this period, she also recorded "It's Love", a duet with Girls' Generation member Sunny, for the MBC's drama 'Heading to the Ground' (2009).
Following a radio hosting job in 2009-2010,Taeyeon briefly dabbled with an acting career by making a theatrical debut. She was cast in a lead role in the musical 'Midnight Sun' (2010), an adaptation of the Japanese novel of the same name (2006). Having learned guitar for her character, she acted "Kaoru Amane", a teenager who suffers from xeroderma pigmentosum. Her performance in the sold-out shows received good press despite the musical's critical reviews. Jang Gyeong-jin of '10Asia' praised Taeyeon's "distinct vocals" and commented her acting stood out among idol stars who have ventured into musical fields, while Kim Ji-yeong from 'The Dong-a Ilbo' said that Taeyeon's optimistic and charming personality made her the perfect match for her role. Despite the positive reviews, Taeyeon later said that musicals are difficult.
During the same year, Taeyeon worked with Korean songwriter-composer Ahn Young-min. She recorded "Like A Star" (featuring The One), having the song peaked at number one on Gaon Digital Chart after its release. Her next single, "I Love You", for the SBS's drama 'Athena: Goddess of War' soundtrack, reached no.2 on the same chart. Ahn recalled his impression on the latter song "I was surprised at how well Taeyeon could sing. This is a rather mature song, so I would be lying if I said I didn't have my doubts, but she blew me away. I was moved to tears listening to her singing." In 2011, Taeyeon lent her voice to Kim Bum-soo's "Different", a single featured in his seventh album 'Solista: Part 2′. The song debuted at no.2 on Gaon Digital Chart. Taeyeon and Kim Bum-soo met again two years later for a live cover version of the latter's 2008 song "Man and Woman" at his concert.
Following Taeyeon's working relationship with musical director Lee Pil-ho from the drama 'Beethoven Virus' (2008), he was determined to collaborate with her again on his MBC's melodrama 'The King 2 Hearts' (2012) soundtrack, having her recorded the main theme song "Missing You Like Crazy". It was released in March 2012 and debuted at no.2 on both Gaon Digital Chart and K-pop Hot 100. Taeyeon's vocal received positive feedback from the song's composer Park Hae-woon: "She fully understood the song in its entirety and expressed each detail very precisely…even though this song requires the lowest note that a female singer can produce, Taeyeon executed them perfectly." The song was named the most popular soundtrack at 2012 Seoul Drama Awards. Later in the year, she contributed her vocals to the song "Closer", for the SBS's drama 'To the Beautiful You', which managed to reach no.7 on both Gaon Digital Chart and K-pop Hot 100.
In April 2012, a Girls' Generation's subgroup named TTS was formed with Taeyeon and fellow members Tiffany and Seohyun. They debuted with 'Twinkle', which was successful and their first album became the 8th highest selling album of the year in South Korea. The subgroup went on to release two more EPs: 'Holler' (2014) and 'Dear Santa' (2015). In January 2013, Taeyeon and Tiffany had a duet "Lost in Love", which was featured in Girls' Generation's fourth Korean album, 'I Got a Boy'. Two months later, she recorded "And One", written and composed by Kangta, for the SBS's drama 'That Winter, The Wind Blows'. The song reached no.2 on Gaon Digital Chart. In July 2013, Taeyeon was invited to record the theme song "Bye" for the movie 'Mr. Go' soundtrack, after its musical director was left with a "deep impression" having heard her cover version of a song on a radio appearance.
In February 2014, Taeyeon joined the roster of SM the Ballad, a ballad group initially formed by SM Entertainment in 2010, contributing her vocals to their 2nd album 'Breath'. Her lead single of the same name (a duet with Shinee's Jonghyun) peaked at  no.3 and six on South Korea's Gaon Digital Chart and K-pop Hot 100 Chart, respectively. She also recorded a solo song, "Set Me Free", for the album. Her other 2014 releases included "Colorful" for JTBC's campaign "The World Is More Beautiful Because We're Different" and "Love, That One Word" for the SBS's drama 'You're All Surrounded', reached Top 10 on both Gaon Digital Chart and K-Pop Hot 100.
3. 2015 – 2016 = Solo Debut:
Taeyeon began working on a solo album in late 2014. She previously was afraid of not being ready for a solo debut, but her eight-year career proved to help her gain the experience to be "well-prepared". The final product, an extended play titled "I", was released in October 2015. The extended play peaked at no.2 on South Korea's Gaon Album Chart. It became the 16th best-selling album of 2015 in South Korea. It additionally peaked atop the US Billboard World Albums. The commercial success of "I", according to Yonhap News Agency, was the main contributor to S.M. Entertainment's leading music sales during the fourth quarter of 2015. The title track, which features rapper Verbal Jint, peaked at no.1 on Gaon Digital Chart. To accompany her solo release, she held a series of small concerts titled 'Taeyeon's Very Special Day'. Her concurrent reality show, OnStyle's 'Daily Taeng9Cam', was the third most popular idol program of 2015 in South Korea. Taeyeon was named Best Female Artist at the 2015 Mnet Asian Music Awards, and the 2016 Golden Disk Awards.
Taeyeon next contributed her vocals to Yim Jae-beom's "Scars Deeper than Love", Verbal Jint's "If The World Was a Perfect Place" (2015) and Crush's "Don't Forget" (2016). In February 2016, 'S.M Entertainment' launched a digital music platform called SM Station, having Taeyeon's single "Rain" being its first release. The song peaked at no.1 on Gaon Digital Chart. It remained to be the most commercially successful song of SM Station to-date. A few months later, Taeyeon and Super Junior's Kyuhyun were featured in a commercial for the bottled water brand Jeju Samdasoo, for which Taeyeon recorded a song "The Blue Night of Jeju Island". She also became the spokesperson for 'Sword and Magic', a game developed by the company 'Longtu Korea', for which she recorded a rendition of BoA's 2003 song "Atlantis Princess".
After her record label's musical focus started steering towards EDM, her follow-up extended play titled 'Why' (2016) also saw that incorporation into its track list. The album met with complimentary reviews, with Jeff Benjamin from 'Fuse' praised Taeyeon's "powerful vocals" in it. It debuted at no.1 and no.2 on South Korea's Gaon Album Chart and Billboard's US World Album Chart, respectively. With her accompanying concert series, 'Butterfly Kiss', she became the first Korean female solo artist to hold a full-scale concert while still being an active girl group member. It was deemed by the media as a success, setting a precedent in a Korean market which stigmatized that concerts held by a single girl group member would not be profitable. During the concerts, she performed her self-composed unreleased song, "Pray", for the first time.
After having recorded "All With You" for SBS's television drama 'Moon Lovers: Scarlet Heart Ryeo', her next single, "11:11", was released in November 2016. It peaked at no.2 on Gaon Digital Chart and was chosen by Billboard as the 7th best K-pop song of the year. She later revealed an acoustic version of it on YouTube. With her work, she was honored as "Voice of the Year", "Singer of the Year" and "Most Hardworking". She also won the title for "Best Female Artist" at 2016 Mnet Asian Music Awards.
4. 2017 – present = My Voice :
Taeyeon's first studio album, 'My Voice', being in the production process for over a year, was released in February 2017 and spawned a single titled "Fine". Both the album and the song were well-received, topping the Gaon Album Chart and Gaon Digital Chart, respectively. On April 5, 2017, a deluxe edition of 'My Voice' was released, accompanied by the single "Make Me Love You". The song reached no.4 on the Gaon Digital Chart. In May 2017, Taeyeon embarked on her first Asia tour "Persona", becoming the first South Korean female singer to hold a solo concert in Thailand and 3 consecutive shows in Taiwan.
Relationships – Rumors:
1. Byun Baekhyun:
In June 2014, SM Entertainment revealed that Baekhyun is in relationship with Taeyeon, who is also a celebrity- leader of SNSD. This confirmed the suspicions of the huge number of fans that repeatedly said that both Baekhyun and Taeyeon are in relationship. The couple had known each other for roughly three years, since when Baekhyun first entered SM as a trainee. When Baekhyun was still a trainee, he confessed that he was attracted to Taeyeon. After his confession, they first got close as colleagues and only after a long time their friendship developed into something more.
The Korean magazine 'Dispatch' published a detailed report that showed concrete evidence of their relationship. The two have been spotted in a car date (it is said that they had about 6 confirmed dates in a month), and their SNS activities have also been made public. The two often liked each other's pictures on Instagram.
After the relationship was confirmed with many photos, fans of both Baekhyun and Taeyeon got angry. Baekhyun's fans got angry because once he confessed that he wasn't planning on dating someone until he turns 35 years-old.
However, their relationship wasn't always smooth. According to some of their mutual friends, the couple tried many to make things work out. The relationship between the two idols was characterized as a damaging one because of the many times the couple has decided to break up and try to get back together after a while.
In November 2014, many fans discussed about the episode where Taeyeon unfollowed Baekhyun on social media, while he was still following,  and if they had broken up by any chance.
In September 2015, the idols parted their ways because of their busy schedules.
Moreover, earlier this month there were some pictures of Taeyeon holding Baekhyun's shirt. This made the fans more suspicious that the two idols might be together.
2. G-Draagon:
After her break-up with Baekhyun, back in 2015, she was never seen in public with another guy. But later, there were rumors saying that Taeyeon was dating G-Dragon.
However Taeyeon's agency, SM Entertainment, denied the rumors. Also G-Dragon's agency, YG Entertainment, said: "We have nothing to say officially.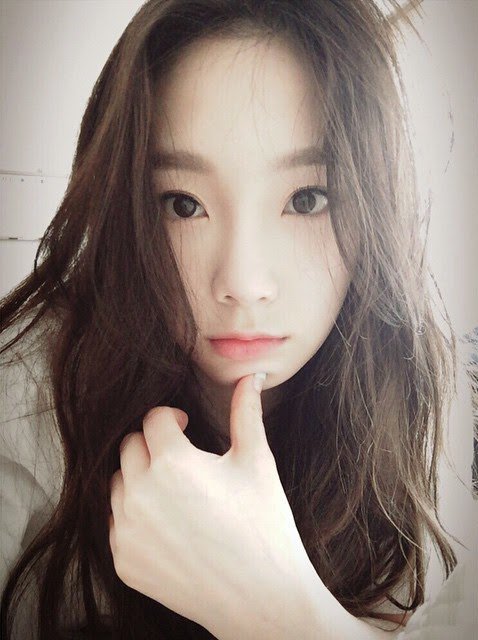 Quick Profile of Taeyeon:
Position: Leader, Main Vocalist
Zodiac Sign: Pisces
Chinese Zodiac Sign: Snake
Nationality: Korean
Height: 158 cm
Weight: 45 kg
Blood Type: O
Hobbies: Watching movies and Listening to music
Skills: Chinese and Singing
Personality: Talkative, Childish, Calm
Motto: 'Never do things that you will regret later'
Sub-Groups: Girls' Generation TTS
Nicknames: 'Taeng', 'Taengoo', 'Tete', 'Kid Leader' and 'JumTaeng'
Taeyeon's Favorite Things:
Song from Girls' Generation's first album: "Merry Go Round"
Pajamas: the ones with long sleeves, so she can feel safe
Song: "Unconditionally"
Number: 9
Animals: Tigers, Dogs and Cats
Colors: Light Blue and Purple-Blue
Weather: Rainy and Windy
EXO's member: Baekhyun
Facts about Taeyeon:
She discovered that she was "only talented in singing" when she was 13
Her talent comes from her parents. Her dad was a vocalist in a band and her mom had won children's song competitions when she was young
Although she's the eldest among members, she acts like a maknae
She wears contact lens
Sometimes she sleepwalks. Once she managed to use the elevator
According to Sooyoung, when she's sleeping, she would speak so clearly that she could even host her own show
In one of her dreams she said 'so handsome~'
She is really scary when she is angry
Sunny and Sooyoung voted Taeyeon as the most popular among the members
She was cast in 'We Got Married'. Her husband was Jung Hyung Don (Weekly Idol's MC)
Taeyeon was the first Girls' Generation's member who had a solo debut
She has an exceptional voice and sad tone that makes people feel the song
She participated in the song "S.E.O.U.L" to promote tourism in Korea
She was a co-host of 'Win Win' with 2PM's Wooyoung, Choi Hwa-jung, Kim Shin-young, and Kim Seung-woo
She casted as voice actors with Seohyun in 'Despicable Me', both prequel and sequel
Played the role of "Margo" and "Edith" in the two 'Despicable Me' movies
She was DJ for one day at MBC's Shindong program, 'Shimshimtapa' with Tiffany
She was featured in a reality show along with Seohyun and Tiffany
In February 2015, she was featured in Amber's 'Shake That Brass'
Park Jin-young wants to work with her
She is to be the best in singing
In 2016, she was ranked as the no.1 of the most beautiful faces in South Korea
Her fanbase is the largest in SNSD
Her parents own an optical shop
She loves perfumes and has a collection of perfumes
She loves jelly, gummy worms, and anything like that
Her name means "The Great Beauty"
Her roommates are Tiffany, Sooyoung and Sunny
She used to share a room with Yoona in the past
She speaks in her hometown's accent when she visits her hometown
She often sleeps in yoga style, or crosses her legs
She once escaped from the practice room because she was exhausted
The second best cooker in SNSD
She is good at drawing
When sleeping, her common phrase is "More! More!". Once Yoona, her former roommate, heard her and she started to laugh so hard that she couldn't fall asleep later
She's confident with her lips
Seohyun brainwashed her into liking 'Peroro' which she found boring before
She dreamed of being a DJ
She thinks Kang Dong Won is handsome and she likes him
She loves black bean milk
She wants to go on a trip to Japan and England
She loves purple flowers
She has a very bad memory
She keeps her problems to herself, she won't tell the others because she thinks it would burden them
She never played with dolls. Instead, she played with tops, robots, and cars
She can sleep without closing her eyes
When she was hospitalized, Sooyoung replaced her in 'Chinchin'
She likes Wonder Girls's SonMe
One time, during a recording, she couldn't reach high notes and cried
She loves teasing Tiffany
Her phone was once lost and she found it in the refrigerator
She used to play online
She plays "The Sims 4"
She once wanted to quit her position in the group
She doesn't like boys with long hair
Nobody knows when she is sad. She likes to hide her feelings
She prefers friendship instead of love
She hates aegyo and stated that she had a hard time trying to be cute in "Gee"
She doesn't have an e-mail
Taeyeon voted herself as the best cook in SNSD. However, the others voted Hyoyeon
She sleeps for about 7 hours a day
She watches TV for about 4 hours a day
When she takes photos and the camera flashes, she thinks she is the prettiest
One time, she cried because the members were eating on the table, but the staff were eating on the floor
She is the model of her parents' optical shop
Hyungdon liked Taeyeon. He couldn't look at her because she is so cute
Whenever she comes down from the stage, she feels lonely and empty
She suffered from insomnia
She, Sooyoung and Yoona hate cockroaches. They used to burn them
She can fall asleep anywhere
She is blunt and dense
She covers her wounds with make-up
She can even get drunk with a butter beer
She has five piercings
She likes to play football
She loves to touch KARA's Nicole's butt
She envies Sooyoung's short hair so much, that she even copied her hairstyle
When she is stressed, she listens to music and she tries to forget about it
Taeyeon's Ideal Type of Man:
Appearance/Character: Someone who likes to communicate, and keeps in touch with her. Someone natural
Age Difference: She said that she prefers older men who look younger than their age